JBQ at Louisville First Assembly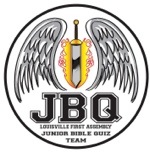 What is Junior Bible Quiz?
Junior Bible Quiz is designed to disciple kids in a fun, competitive environment. Our goal is to provide parents a resource in order to hide God's Word in the hearts of every child through fun, competitive matches. Preparing for these matches develops a long-lasting love for God's Word in every student that participates in Junior Bible Quiz.
The JBQ Teams meet every Sunday Morning at 9:30, during Sunday School. If your child is interested in participating in Junior Bible Quiz, please see Jared and Jordan Heller for information.